Inicio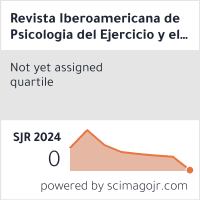 Web of Science (ESCI)
Research Gate Impact Factor (2019): 0.33
ISSN Number: 1886-8576
ICDS Value (2018): 9.6
La Revista Iberoamericana de Psicología del ejercicio y deporte (RIPED), fundada en 2006 y cuyo objetivo es ser un vehículo para la transmisión y difusión del ejercicio y la psicología deportiva.
Busca la divulgación científica de todos los trabajos de investigación, ya sean teóricos o aplicados, así como la práctica profesional y las experiencias que se llevan a cabo en nuestro entorno socio-geográfico y cultural.
La Revista Iberoamericana de Psicología del Deporte y del Deporte está indexada en las siguientes bases de datos: Web of Science, Scopus, Latindex, EBSCO, índice Google Scholar h5: 16 y varios sitios de indexación reconocidos.
Revista Iberoamericana de Psicología del Ejercicio y el Deporte de las siguientes secciones:
Motor de aprendizaje y control Común
de lesiones deportivas
Fisiología del ejercicio
Neurofisiología
Cirugía ortopédica y medicina deportiva
Mecanismos de dolor
Medicina Deportiva Pediátrica
Medicina deportiva de cuidado primario
Medicina deportiva y ejercicio
Prevención de lesiones deportivas
Director Deportivo
Medicina deportiva
Cognición
Participación deportiva de ancianos y ancianos
Epidemiología de las lesiones deportivas
La atleta femenina
Rehabilitation and training
Paralympic sport
Human movement sciences
Interdisciplinary Sciences
Anxiety and decision making
Psychology of Intervention, Clinic and Counseling
Health, Motivation and Exercise
Humanities and social psychology
Physical education
Injury prevention
Joint injury
la kinesiología
We intend to obtain the highest level of quality possible.
Open access policy
Open access is the practice of providing free and unrestricted online access to research products. The world of academic publishing is changing drastically. We are proud to offer flexible publishing options for international researchers who want their research to be available as open access.