Welcome to the Journal
Journal h-index : 34

Average acceptance to publication time (5-7 days)
Average article processing time (30 - 45 days) Less than 5 volumes 30 days
8 - 9 volumes 40 days
10 and more volumes 45 days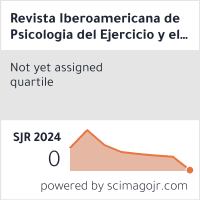 Web of Science (ESCI)
SCOPUS Cite Score (2020):1.5
ISSN Number: 1886-8576
ICDS Value (2020): 9.6
Research Gate Impact Factor (2020): 0.81
Impact Factor: 0.81
Revista Iberoamericana de Psicologia del Ejercicio y el Deporteopen access (RIPED)
The Ibero-American Journal of Exercise and Sports Psychology (RIPED) was established in the year 2006 by enthusiasts of Exercise and Sport Psychology and with the concerted efforts of Spanish Federation of Sports Psychology (FEPD), Portuguese Society of Sports Psychology (SPPD), Association of Sports Psychology Argentina (APDA), Uruguayan Society of Sports Psychology (SUPDE), Scholarly articles for Brazilian Society of Sports Psychology (SOBRAPE), Bolivian Society of Psychology of Physical Activity and Sports (SOBOPAD).
RIPED Journal publishes peer-reviewed articles reporting latest developments in the areas of Sports Injuries, Sport Psychology, Exercise Physiology, Sport Science, Physical education, Anxiety, Decision Making and Sports Medicine, once in every two months. The Journal aims to disseminate scientific knowledge, research outcomes and the practice in these areas of research where psychology is combined with exercise and sport.
The Journal publications include experimental research outcomes, systematic reviews, correlation & comparative studies, product evaluation as well as qualitative studies. The Journal also considers critical reviews, cases studies, short communications, opinions, debates on policies and opinions and letters to the Editor. Empirical studies and articles related to practice of sports and physical exercise are also solicited in addition to reviews on the latest books related to sports and exercise psychology.
Articles are published in English language with references in the Roman alphabet with average turn-around time of 70 days per manuscript under International Open Access Creative Commons Attribution License Attribution- Non-Commercial-No Derivatives license 4.0 (CC BY-NC-ND 4.0) whereby the readers have free access to copy and redistribute original article in any medium for non-commercial purpose.
Ibero-American Journal of Exercise and Sports Psychology is indexed in Web of Science, Scopus, Latindex, EBSCO, Google Scholar, IN-RECS, SCIMAGO, ERIH-PLUS, Redalyc, Ulrichs Web, REDIB and several other International databases. The Journal's archived repositories serve as reliable source of continuing education for sports instructors, sports psychologists, trainers, athletic counselors, coaches, advisors, exercise interventionist, sports therapists, health psychologists, academicians and researchers, athletic administrators and policy makers.
RIPED enjoys the support of well acclaimed associations in Spain such as Canary Association of Psychology of Sports (ACAPDE), Catalan Association of Sports Psychology (ACPE), Association of Sports Psychology of Andalusia (APDA), Spanish-Leonese Association of Sports Psychology (ACLPD), Galician Associate of specialists in Psychology of Sports and Physical Activity (EPSIDE).
The Ibero-American Journal of Exercise and Sports Psychology (RIPED) aims at a vehicle of transmission and diffusion of Exercise and Sports Psychology.
Its intention is the scientific diffusion of all of those research projects, either theoretical or applied, such as the professional practice and experiences which are being carried out in our socio-geographic and cultural environment.
Ibero-American Journal of Exercise and Sports Psychology is indexed on the following databases: Web of Science , Scopus , Latindex , EBSCO , Google Scholar h5 index: 18 and various well-reputed indexing sites.
Fast Editorial Execution and Review Process (FEE-Review Process):
Latin American Journal on Exercise and Sport Psychology is participating in the Fast Editorial Execution and Review Process (FEE-Review Process) with an additional prepayment of $99 apart from the regular article processing fee. Fast Editorial Execution and Review Process is a special service for the article that enables it to get a faster response in the pre-review stage from the handling editor as well as a review from the reviewer. An author can get a faster response of pre-review maximum in 3 days since submission, and a review process by the reviewer maximum in 5 days, followed by revision/publication in 2 days. If the article gets notified for revision by the handling editor, then it will take another 5 days for external review by the previous reviewer or alternative reviewer.
Acceptance of manuscripts is driven entirely by handling editorial team considerations and independent peer-review, ensuring the highest standards are maintained no matter the route to regular peer-reviewed publication or a fast editorial review process. The handling editor and the article contributor are responsible for adhering to scientific standards. The article FEE-Review process of $99 will not be refunded even if the article is rejected or withdrawn for publication.
The corresponding author or institution/organization is responsible for making the manuscript FEE-Review Process payment. The additional FEE-Review Process payment covers the fast review processing and quick editorial decisions, and regular article publication covers the preparation in various formats for online publication, securing full-text inclusion in a number of permanent archives like HTML, XML, and PDF, and feeding to different indexing agencies.
Ibero-American Journal of Exercise and Sports Psychology comprised of the following sections:
Motor learning and control
Common Sports Injuries
Exercise Physiology
Neurophysiology
Orthopedic Surgery and Sports Medicine
Pain Mechanisms
Pediatric Sports Medicine
Primary Care Sports Medicine
Sports and Exercise Medicine
Sports Injury Prevention
Sports Management
Sports Medicine
Cognition
Older adult and elderly sport participation
Epidemiology of sports injuries
The female athlete
Rehabilitation and training
Paralympic sport
Human movement sciences
Interdisciplinary Sciences
Anxiety and Decision Making
Intervention, Clinical and Counseling Psychology
Health, Motivation, and Exercise
Humanities and Social psychology
Physical education
Injury prevention
Joint injury
kinesiology
We intend to gain the highest possible level of quality.
OPEN ACCESS Policy
Open access is the practice of providing free and unrestricted online access to the products of research. It is dramatically changing the world of scholarly publishing. We are proud to offer flexible publishing options for international researchers who wish to make their research available as open access.
Aim and Scope
Ibero-American Journal of Exercise and Sports Psychology Journal primarily focus on publishing new insights into the interactive effects of physical exercise and psychology that impact sports performance. Supplementary issues are commissioned to include the contemporary research and conference presentations. The Journal promotes new dimensions of research to advance and expand the existing levels of knowledge and information in sports and exercise psychology. In addition to the research and reviews, the Journal also facilitates publication of brief reports, observations, debates and opinions providing theoretical concepts and qualitative information that are of interest to the sports community.
The Journal covers areas of experimental, clinical and developmental sports psychology including the sports physiology with special emphasis on improved methodologies. The sections where the Journal excels are motor learning & control, sports injuries, sports medicine, pain mechanisms, cognition, Paralympic sport, clinical & counseling psychology, physical education and kinesiology.
h-index
Articles published in Ibero-American Journal of Exercise and Sports Psychology have been cited by esteemed scholars and scientists all around the world. Ibero-American Journal of Exercise and Sports Psychology has got h-index 34 , which means every article in Ibero-American Journal of Exercise and Sports Psychology has got 34 average citations.