404 Page not found!!
We weren't able to find this page. Here are some other open options you might take up!!
Welcome to the Journal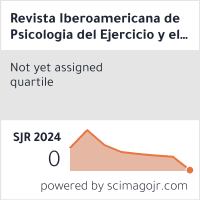 Web of Science (ESCI)
SCOPUS Cite Score (2020):1.5
ISSN Number: 1886-8576
ICDS Value (2020): 9.6
Research Gate Impact Factor (2020): 0.81
Impact Factor: 0.81

The Ibero-American Journal of Exercise and Sports Psychology (RIPED) aims at a vehicle of transmission and diffusion of Exercise and Sports Psychology.
Its intention is the scientific diffusion of all of those research projects, either theoretical or applied, such as
the professional practice and experiences which are being carried out in our socio-geographic and cultural environment.
Ibero-American Journal of Exercise and Sports Psychology is indexed on the following databases: Web of Science , Scopus , Latindex , EBSCO , Google Scholar h5 index: 16 and various well-reputed indexing sites.
Ibero-American Journal of Exercise and Sports Psychology comprised of the following sections:
Motor learning and control
Common Sports Injuries
Exercise Physiology
Neurophysiology
Orthopedic Surgery and Sports Medicine
Pain Mechanisms
Pediatric Sports Medicine
Primary Care Sports Medicine
Sports and Exercise Medicine
Sports Injury Prevention
Sports Management
Sports Medicine
Cognition
Older adult and elderly sport participation
Epidemiology of sports injuries
The female athlete
Rehabilitation and training
Paralympic sport
Human movement sciences
Interdisciplinary Sciences
Anxiety and Decision Making
Intervention, Clinical and Counseling Psychology
Health, Motivation, and Exercise
Humanities and Social psychology
Physical education
Injury prevention
Joint injury
kinesiology
We intend to gain the highest possible level of quality.
OPEN ACCESS Policy
Open access is the practice of providing free and unrestricted online access to the products of research. It is dramatically changing the world of scholarly publishing. We are proud to offer flexible publishing options for international researchers who wish to make their research available as open access.